Commercial Dugout Benches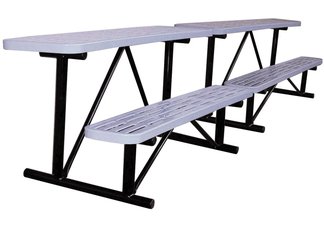 Dugout Benches offers quality commercial baseball park dugout benches in a wide variety of colors, sizes, and styles - all with a Low-Price Guarantee! PROUDLY MADE IN AMERICA, all dugout benches are made to order based from the 15 available colors to choose from. Delivery is within 3 to 5 weeks depending on size of order and destination city.
Our most popular and traditional dugout benches have the "lower tier section" that is made with composite layer that is resistant to scratching from metal spikes. Both the top seat and lower tier has built in grooves to allow the baseball cleats to grip the surface to avoid sliding.
The two-tiered dugout bench pictured above is our most popular seller! The steel tubing structure is 8' long and allows the baseball players to sit on the second tier with their feet on the bottom. This is the classic dugout bench for dugout floors that are below the playing surface.
Benefits of our Dugout Benches:

Storage area for bat & ball bags under both our single and two-tier dugout benches
Heavy Duty Construction
A professional "Major League" look to your new or existing baseball field
Dugout bench support braces & tubular legs are built to make it easy to sweep and clean up after games
Guaranteed for 5 years not to rust or corrode!
Very simple assembly/installation
Unlike wooden dugout benches, our metal dugout benches are made to last and can easily be hosed off without he worries of rusting or decaying
Proudly Made in the USA!
4 to 6 weeks ship time - varies on the time of the year
Customized dugout benches are available - call for details
We can add your baseball field name or logo on the dugout benches with built-in back rest - call for details.
For questions or concerns, our customer service representatives are here to serve you. Contact us directly at 334-558-0863 or by e-mail.